Back in 2005 an old wreck was located in the lake Mjøsa, the largest inland-lake in Norway.
The discovery of the wreck was done while setting up and tuning the sidescan system.
The site have been reported and registered with the Norwegian Maritime Museum.
This lake was the main transportation route in these parts of Norway in early times, as the lenght of the lake is about 110Km running North-South from Lillehammer to Minnesund in Eidsvoll.
This is the best image we have of the wreck, as the wreck is almost completely burried in sand.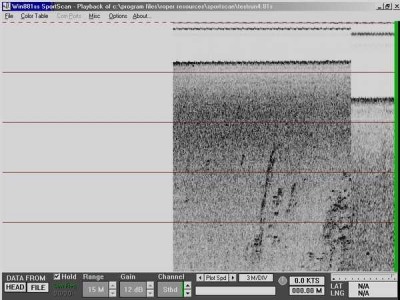 The wreck lays on the seafloor close to where the old steam-wheeler passes on its way to the shipyard at Minnesund. The site is not very deep, just a few meters during normal water height.